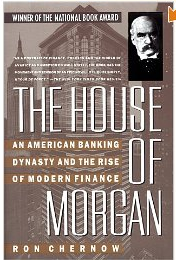 If I had purchased this as a "real" book instead of an ebook it would still be on my shelf. Fortunately I bought the kindle version and couldn't tell how long it was. I purchased the book based on the recommendation of the Forbes list, "The 20 most influential business books." I reading it and after what seemed like a small eternity I looked down and saw that I was 1% of the way through the book. But by that time I was hooked and kept on reading.
I read the first 20% of the book on my iPad and finished on my kindle. As an aside I like reading on both but the eInk display makes it easier to read for hours at a time.
Back to the review. The House of Morgan is fantastic and an excellent read. That is of course if you enjoy learning about "An American Banking Dynasty and the rise of Modern Finance". Ron Chernow spent years researching this epic treatise and I am glad he did. I learned more about finance, banks, bankers and government regulations in this one book than I have by regularly reading the Wall Street Journal. And as a side note the WSJ make a heck of a lot more sense after reading this book and learning the history behind the various companies.
Anyone who wants to learn about the present needs to first learn about the past. As Seymour Morris Jr. said in "American History Revisited" "History doesn't repeat itself, but it does rhyme". If you get the chance and are interested in the subject matter then read this book it will be well worth your time and I highly recommend it.
Here are a few of my highlighted portions of the book:
Their strategy was to make clients feel accepted into a private club, as if a Morgan account were a membership card to the aristocracy.

The bank won't soil its white gloves with just anybody's cash,

Like many who have overcome early hardship by brute force, he was proud but insecure, always at war with the world and counting his injuries.

"When the streets of Paris are running with blood, I buy."

telescopic philanthropy—bountiful love for abstract humanity combined with extreme stinginess toward the individuals he knew personally.

Mexico was a resource-rich country that always held out a seductive promise of prosperity,

"an institution is the lengthened shadow of a man,"

"The world is divided into people who do things and people who get the credit. Try if you can to belong to the first class, there is far less competition."