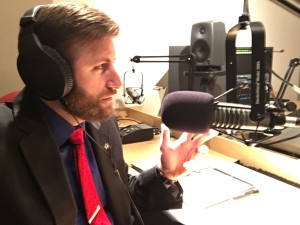 Ethan Demme, Scott Martin and Neal Rice appeared on WITF's Smart Talk to discuss the issues facing Pennsylvania. You can listen to the full debate below of visit the WITF website.
Smart Talk is a daily, live, interactive program featuring conversations with newsmakers and experts in a variety of fields and exploring a wide range of issues and ideas, including the economy, politics, health care, education, culture, and the environment. Smart Talk airs live every week day at 9 a.m. on WITF's 89.5 and 93.3.
It was a good debate with some solid questions. Here are a few comments from listeners.
Mr. Rice touts that he's an outsider, a fresh face, not a career politician. But with his mud slinging, cheap shots and avoidance of real issues, it seems to me like he's got being a dirty politician down pat! Well done sir. You seem like a real gem. Ethan and Scott, thank you for sticking to issues that the people actually care about. – Kelly
That was a cheap shot by Mr. Rice at the end. I think out of the three, Mr. Demme has the clear moral high ground here. – Rudy