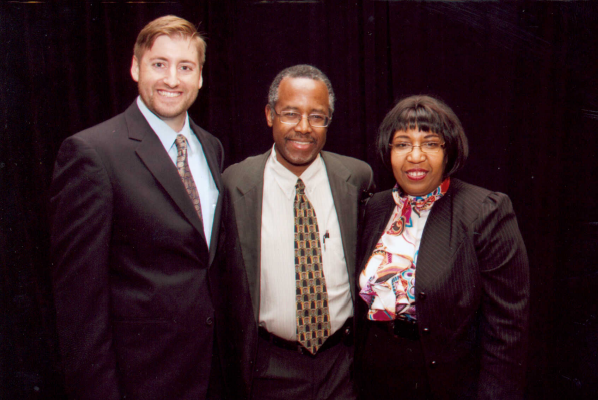 Ben Carson, the Republican Secretary of the Department of Housing and Urban Development wants to make housing affordable and he has a simple plan: cut unnecessary government regulation. In an interview in the Wall Street Journal, Carson said: "I want to encourage the development of mixed-income multifamily dwellings all over the place."
At a gathering of public housing authority directors in Washington, D.C, Carson shared his diagnosis of the problem: "I want to take a closer look at the archaic local and state regulatory barriers—such as zoning and land use restrictions—that are preventing the construction of new mixed-income multifamily developments, whether in poor or wealthier neighborhoods." The Wall Street Journal explains that Carson's plan is "to tie HUD grants, which many communities use to build roads, sewers, bridges and other infrastructure projects, to less restrictive zoning." In Carson's words, he would "incentivize people who really would like to get a nice juicy government grant" to make their zoning less regulated, allowing for more development.
For Ben Carson, the increasingly bipartisan effort to deregulate development is about rejecting ideology and operating with common sense. In the WSJ interview, he explains: "The last administration, when they put this together they really went down an ideological pathway. We are going to look at the people who are actually affected, what are they saying, what will be helpful to them."
Ben Carson's proposal is similar to that of senators across the aisle, including Cory Booker and Elizabeth Warren. Like Carson, Booker believes that "exclusionary zoning feeds the affordable housing crisis" because "restrictive zoning laws drive up prices by artificially restricting the supply of housing." And also just like Carson's proposed remedy which relies on better incentives, Booker's solution is that "states, cities and counties receiving funding under the $3.3 billion federal Community Development Block Grant program for public infrastructure and housing would be required to develop strategies to reduce barriers to housing development and increase the supply of housing" which could include plans to authorize "high density and multifamily zoning and relaxing lot size restrictions." Booker's proposal would also encourage governments to "reduce restrictions on lot sizes and allow the construction of multifamily units" and "reduce parking requirements and restrictions on accessory dwelling units," allowing by-right development for projects meeting local zoning requirements. Similarly, The Atlantic reports that Elizabeth Warren's proposed bill "creates a competitive block grant program" to encourage deregulation. Under this plan, "the grant money could be spent flexibly—on schools or parks, for example—and is intended to appeal to suburban communities with stricter zoning laws. Those communities can only access grants if they reexamine and redress their land restrictions."
I've written about the need for deregulation and zoning reform. In an interview with my local paper, I observed that "the market tells us that people want more options" and argued that we should "remove some of the government regulations and let people choose what they do with their own properties." I recently wrote an in-depth post on how Accessory Dwelling Units are a great way to provide affordable housing.