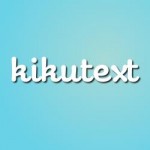 In today's edSurge newsletter there was a short piece on Kikutext, a simple text messaging tool to help teachers communicate with and engage parents. It's great seeing companies coming up with more solutions and tools to help with parental engagement in the classroom.
Here is my favorite quote from the EdSurge report. Emphasis mine.
The three co-founders–all Teach for America teachers–adamantly contend that parent engagement is critical to student success. "We're don't want teachers to use the 'uninvolved parents' line as an excuse to not perform," says co-founder Mr. Mark McDonald. So teachers can ping reminders to parents, who get to write back–all done without revealing real numbers, of course.
From the Kikutext website.
It's clear that engaged parents are critical to a student's success in school. For this reason, we believe it should be as easy as possible for teachers and parents to maintain a clear line of communication. Kikutext was built with this simple purpose in mind – to make it easy for teachers to share student updates with parents.
Watch the Kikutext presentation and try it out for free.