I just returned from the Excellence in Action 2012 National Summit. The content and level of discussion at the conference was wonderful but one forum stood out to me which I hadn't fully considered and that was the section on Education and National Security. Below is a link to the video from C-SPAN of Condoleezza Rice giving an impassioned call to reform American Education because it is in our best national security interest to do so.
Condoleezza Rice and Joel Klein talked about the report they co-authored, and had a discussion on the links between national security and education reform. Other highlights of the discussion included higher standards in education, and choice in education systems.
Visit the Excellence in Education National Summit website for more information. A few tweets from the event are embedded below.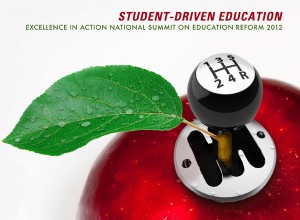 Condi Rice: if you have low expectations of even the best students they will live down to them. I'm not for the self-esteem movement #EIA12

— Kate Wallace (@KStreetFla) November 28, 2012
Former Sec. of State Condi Rice: if we're not strong at home, we're not going to be strong abroad-that's why we need #edreform #EIA12

— Tom Greene (@tom_greene) November 28, 2012
Joel Klein: if we don't act now, the American dream will become the American memory #EIA12

— Tom Greene (@tom_greene) November 28, 2012