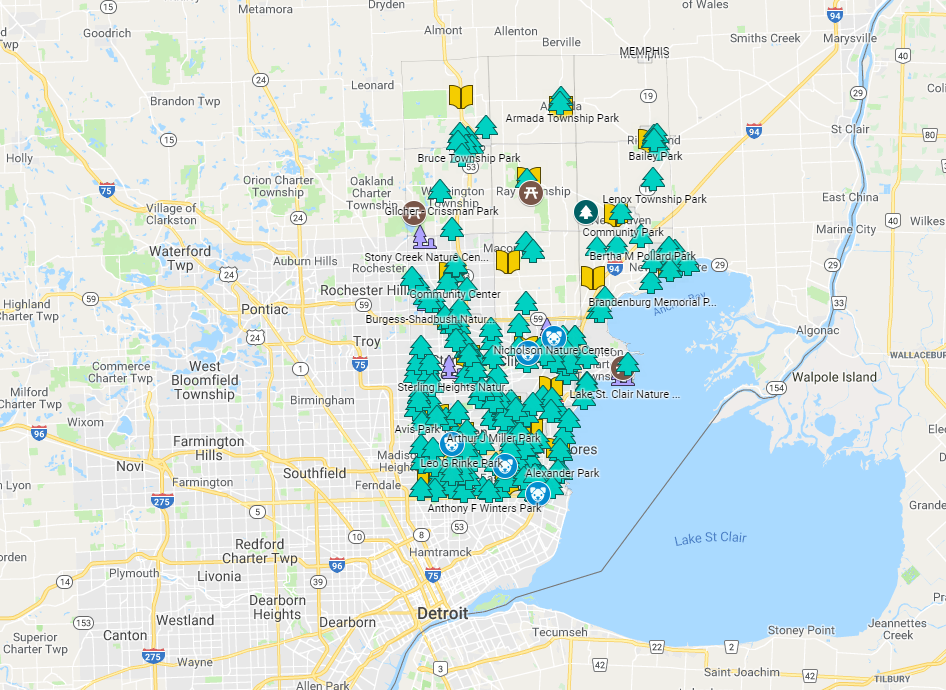 On April 2018, Washington D.C. hosted its annual White House Correspondents' Dinner but the man who lives in the White House wasn't there: he was holding a Make America Great Again rally in Macomb, County. President Trump opened his speech by saying "I love this state and I love the people of this state. I was invited to another event tonight, but I'd much rather be in Washington, Mich., than Washington, D.C."
If you're not a Michigan native, you've likely never heard of Macomb County, and yet this Detroit suburb is the preeminent case study location for Stanley B. Greenberg, the pollster who helped elect Bill Clinton. In his 1995 book Middle Class Dreams, Greenberg devotes a whole chapter to analyzing this one county which he sees as the perfect image of Middle America. You've likely never heard of Macomb County Community College: Greenberg notes that "this one simple community college has hosted seven presidential candidates since 1984."
Before I reveal its voting habits, here's a brief survey of its history. Greenberg writes: "Macomb's population, just over 100,000 in 1949, nearly quadrupled by 1960 and increased by another 200,000 by 1970 […] Home construction boomed: sixty thousand houses were built in the 1950s and continued at that pace for a quarter of a century. The factories moved to Macomb as well: Gm's Buick assembly division, Chrysler's stamping plants, and Ford's transmission and chassis division."
If you guessed that Macomb citizens voted for Trump, you'd be right. But you might be surprised to know that Macomb also voted for Obama, both times. Macomb rarely votes red. In fact, the only other time that a significant percentage of Macomb voted for a Republican candidate for President was when that candidate was Ronald Reagan. Before Reagan, Macomb gave John Kennedy 63% and they gave Lyndon Johnson 74%. But Macomb soon soured on the Democrat party, and when Reagan's campaign resonated with them, they gave him 67%. Flash forward to 2016: guess which of the two candidates spent the most time in Macomb…
Reading Greenberg's book in 2018 is illuminating. Greenberg's chapter on Macomb set out to explain to Democrats why Reagan won the county. The answer he gives continues to be relevant both in showing the cause of disillusionment among Middle America voters, and pinpointing what campaign messaging is most effective in giving them hope.
Greenberg writes: "underlying all the political talk was a lot of simple fear. Givebacks and layoffs, foreign imports and robotics, and the sight of industries moving South." These voters "felt squeezed and neglected." The voters did not believe in the promises of each party: instead, they felt that "the Republicans thought mainly about 'big business,' and the Democrats concentrated mainly on the minority groups."
Here's what Greenberg says are the reasons that these voters rallied around Reagan:
"Ronald Reagan touched these voters because he could represent the nation as a whole and because he stood with the 'small people.' This vote was not about party or ideology or specific policies. In the minds of Macomb voters, Reagan transcended those aspects of election decision making. He elicited affection and pride, insinuating himself into the lives of middle-class voters." Greenberg quotes one voter from his focus group who said of Reagan: "I'll tell you what: I definitely believe that he is trying with all of his heart to do the best he can for this country."
Regarding Middle America, Greenberg writes: "There is no new Democratic or Republican majority in middle America. The New Deal dream that had brought working American to the suburbs remains as shattered as supply-side economics. This is a completely new game with new rules, though the players can hardly dispel the images and themes, the old rules, that dominated their consciousness over the past four decades, maybe longer."
I think that Greenberg's assessment of Middle America is as true today as it was in the 90s, and I think that future political successes will depend on our ability to craft a vision "encompasses the values, aspirations, and vulnerabilities of middle-class America." As Greenberg reminds us, "the story of Macomb is not just about two parties and two perspective candidates contesting the Presidency. It is about two broken contracts and the search for something new that people can depend on."
Further Reading:
Salena Zito has been a political journalist for almost 15 years. Her rule for traveling is "no planes, no interstates, and no hotels." This rule leads Zito to stay at local bed-and-breakfasts and to eat at local diners. Zito's book The Great Revolt (co-written with Republican strategist Brad Todd) introduces us to Macomb and other such places, profiling the locations and voters that form the "populist coalition reshaping American politics." You can read my review of Zito's book here.