Last weekend I had the opportunity to speak at the Greater St. Louis Area Home Educators Expo. I spoke several times but my keynote presentation was,
"Trust Parents:Â  Why Engaged Parents are Essential in Building Lifelong Learners"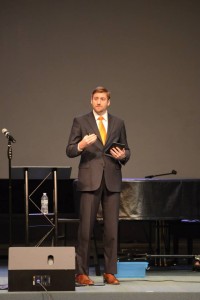 At the heart of this talk is the simple truth that parents are the key to a successful education. The secret? You don't have to be a rocket scientist to help your child succeed. Drawing on a rich set of research, various social sciences studies, and Ethan's homeschooling story "from coonskin cap to college graduate," this talk provides a compelling argument for the importance (and power) of trusting parents. Learn practical tips for parental engagement and be encouraged by the evidence that says, "parents you can do it and you can do it well."
Here are my slides from the talk:
This message of trusting parents is one that I am passionate about sharing because of the far reaching positive implications. If you're interested in this idea and would like to have me speak at your next event just visit the contact page and we can talk. Here is a link to a blog post with research on parental engagement that I cite in this talk. Also check out my math and parental engagement blog series which I reference in my talk, as well as my series on reading, and history.