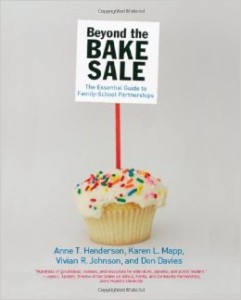 Beyond The Bake Sale: The Essential Guide to Family-School Partnerships is the definitive book on parental engagement for schools. Practical, comprehensive, and inspiring, the book provides a detailed road-map for educators. The book identifies four key beliefs regarding parental engagement.
Core Belief 1: All Parents Have Dreams for Their Children and Want the Best for Them (page 28)
This theme is again revisited later in the book. The authors write: "We suggest that your team start with this premise: All families, no matter what their income, race, education, language, or culture, want their children to do well in school – and can make an important contribution to their children's learning." (pg. 115)
Core Belief 2: All Parents Have the Capacity to Support Their Children's Learning (page 32)
Three key concepts that influence parental involvement:
How parents develop their job description as a parent (role construction): "What parents think they are supposed  to do to help their children and what their family and friends say about what's important and acceptable…") (pg. 33)
How confident parents feel about their ability to help their children (efficacy) (pg. 33)

They have the skills and knowledge needed to help their children
Their children can learn what they have to share and teach
They can find other sources of skill or knowledge if needed
What they do will make a positive difference in their children's learning

Whether parents feel invited – both by their children and by the school (pg. 34)
Core Belief 3: Parents and School Staff Should Be Equal Partners (pg. 36)
This tenet is underscored by two pieces of excellent research reported on in the book.
Researchers "Tony Bryk and Barbara Schneider found that schools where staff

trust parents

and their colleagues tend to have higher levels of student achievement." (pg. 48) (Click here to access the cited study.)
A study of seven hundred African American middle schoolers found that when students were assigned homework that required them to converse with their parents, students were boosted in their writing skills, grades, and test scores. (pg 98) (Click here to access the cited study.)
Core Belief 4: The Responsibility for Building Partnerships Between School and Home Rests Primarily with School Staff, Especially School Leaders (pg. 39)
To provide some evidence for this statement, the book cited a longitudinal study of Title 1 elementary schools. Researchers found that teacher outreach to parents improved student progress in reading and math at 40-50% higher rate. These teachers met face-to-face with each individual family at the beginning of the school year, sent those families materials each week that included ways to help their children at home, and telephoned routinely with news on how their children were doing. (pg. 94) (Click here to access the cited study.)
Beyond The Bake Sale is filled with wonderful insights, down-to-earth advice, realistic action steps, and examples of best practices. Here's a link to the book on Amazon.com.
When leaders accept these core belief's and follow the steps towards trusting parents then good things can happen.
Let's #TrustParents