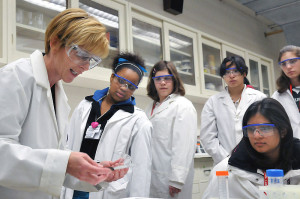 Increasingly, the importance of STEM (science, technology, engineering, and mathematics) is being emphasized as part of the conversation on education. AÂ study published in Psychological Science, a journal of the Association for Psychological Science, showed that it is challenging just getting students enrolled in STEM courses in high school because a lot of those classes are not required during those final four years.
Industry Week took notice of this study back in 2012 and wrote a piece entitled "Need More Students in STEM Careers? Target Their Parents." This article shared how parents can be instrumental in boosting enrollment in STEM classes. Here's the article reporting on that study I mentioned:
"Twice over the course of two years some parents were mailed materials that emphasized the importance of math and science, and the various careers associated with such disciplines. They also were asked to fill out an online questionnaire, which helped to ensure they visited the online STEM content to which they were provided access.

A control group of parents received none of the STEM-related materials.

The outcome: Students of parents who had received the STEM materials enrolled in more science and math classes than students of parents who had not received the materials. The difference amounted to about an extra semester of advanced math or science.

The research showed that parents who had received the materials valued both math and science more highly than parents in the control group; they also had more conversations about the topic with their kids."
I want to especially highlight that last part about conversations. Parents can often feel unqualified to help their children in subject areas that they themselves haven't mastered (and mathematics and science are two fields that can be intimating). Yet this research bears out an important truth: simply talking with kids has significantly positive effects. As the author of the study says,
"This study shows that it is possible to help parents help their teens make academic choices that will prepare them for the future."
When it comes to STEM, as with all things education, we need to encourage parental engagement and influence. This study is just another piece of evidence that supports a key truth: when it comes to education, we should trust parents.