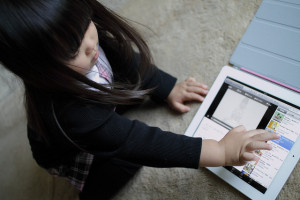 The Foundation for Excellence in Education released their 2014 Digital Learning Report Card. Introducing the report, the CEO of ExcelinEdu, Patricia Levesque, writes:
"Digital learning has the power to connect students with the best teachers in the world. It can offer all students access to hard-to-serve courses and groundbreaking career and technical education as well as vocational training. Digital learning promises better instruction, tailored to the progress and needs of each student. It can allow advancement when a student masters a concept. It can provide additional support for subject areas where students are struggling. Digital learning policies offer a new way to fund education and learning, not fettered by old constraints linked to time, but rather linking funding to learning and the needs of students."
The report highlights 10 elements of high quality digital learning.
Student Eligibility: All students are digital learners.
Student Access: All students have access to high quality digital content and online courses.
Personalized Learning: All students can customize their education using digital content through an approved provider.
Advancement: Students progress based on demonstrated competency.
Quality Content: Digital content, instructional materials, and online and blended learning courses are high quality.
Quality Instruction: Digital instruction is high quality.
Quality Choices: All students have access to multiple high-quality providers.
Assessment and Accountability: Student learning is the metric for evaluating the quality of content and instruction.
Funding: Funding creates incentives for performance, options and innovation.
Delivery: Infrastructure supports digital learning.
To gauge states' progress, Digital Learning Now identified 42 actionable metrics that examine state laws, administrative rules and other policy levers that identify what is needed to ensure the 10 Elements of High-Quality Digital Learning are addressed. These metrics are divided among the 10 Elements and provide states with a framework of the policies that should be in place in order to create an environment that supports a broad system of digital learning.
PA scored a 65%, earning the state a disappointing D grade. Here is the breakdown:
Student Eligibility: D grade
Student Access: F grade
Personalized Learning: C grade
Advancement: F grade
Quality Content: A grade
Quality Instruction: B grade
Quality Choices: D grade
Assessment and Accountability: F grade
Funding: F grade
Delivery: D grade
The report, which you can access here, provides the in-depth metrics that lead to the grades in each of these ten categories. The report also details the 50 new digital learning laws passed in 2014.