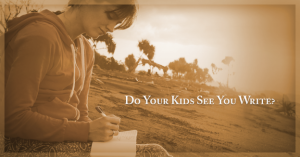 A little while back completed a new series of blog posts on Parental Engagement and reading. You can view the entire series over at the Demme Learning Blog.
Here are some snippets from each of the four posts:
Part 1 -Â What, Not Where
We need to teach our children the 'universals' of writing, principles that transcend the limitations and structures of each medium. If we teach our kids how to write clearly and concisely, they can successfully learn to write in any medium. In fact, the greatest thing we could ever do is teach our kids that writing is valuable and a skill worth developing. If we do that, our kids will be more likely to grow in their writing ability.

We as parents need to encourage our children to write in whatever medium they naturally gravitate towards. Once they have developed a love of writing, we can challenge them to experiment in different mediums and genres.
Part 2 – Writing to Reflect
Besides the benefits of keeping an individual journal and encouraging our kids to do the same, keeping a family journal is also a great way to preserve memories and reflect on experiences together as a family. A family journal can be as simple as recording birthdays and noting important activities (such as a family vacation to Disneyland) or as detailed as writing about every single day. Family journals can also provide a written records for future generations to learn from and enjoy. We have a tradition in my family which we call a "thanks book." Our goal is to look back at a previous week or month and record things that we are thankful for. My parents started this tradition, and it is still going a generation later.
Part 3 – Do Your Kids See You Write?
Simply resolving to write or to just write when you think about it is not enough. We need to actively work to fit writing into our busy schedules — and the best way to do that is to develop a routine. Of course, creating a routine requires experimenting to see what will work best for you: maybe writing in the mornings as everyone is getting ready to face the day won't work for you and your family — perhaps writing in the evenings after supper might work better. The important thing is to develop a routine … and then see how it works. Success isn't the activity, it is the communication of value.
Part 4 – Research Says Writing Is Important 
Writing is both a 'marker' of high-skill, high-wage, professional work and a 'gatekeeper' . . . People unable to express themselves clearly in writing limit their opportunities for professional, salaried employment.

Writing also has health benefits. In the world of counseling, a newer field has emerged called "writing therapy". Research has found that expressive writing, such as writing to reflect in a journal, has therapeutic value and can help us cope with emotional trauma or even just the normal upheavals and stressors of life.