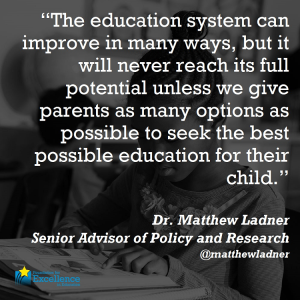 Nevada govenor Brian Sandoval recently signed into law the first universal school-choice program in the nation. The law provides parents with access to Education Savings Accounts, funding that can be used toward education expenses like private school tuition or after-school tutoring or even community college classes.
"Nevada's embrace of school choice has been as dramatic as it has been well thought out. Governor Sandoval and leaders in the Nevada Legislature did their homework, looked at the evidence, listened to all sides and made a decision in the best interests of Nevada's families and Nevada's future," - Patricia Levesque, CEO of the Foundation for Excellence in Education (source)
Today, Nevada parents were given unprecedented control over their children's education making NV a national leader in #SchoolChoice. #NVleg

— ExcelinEd (@ExcelinEd) June 2, 2015
The chief sponsor of the bill, Senator Hammond, had this to say:
"I think a healthy public school system has choice, and we're going to see all kinds of schools pop up to serve the individual needs of students." -  Sen. Scott Hammond (source)
Wall Street Journal has a write-up about the new law which provides some history and context. It's worth the read. Here is the link. Back in January during National School Choice Week, Demme Learning hosted a school choice rally. Here's one of my tweets from a speech I gave on school choice and trusting parents: Â 
#SchoolChoice means empowering parents with the freedom to choose the best educational environments for their children. #TrustParents — Ethan Demme (@EthanDemme) January 29, 2015
To watch videos of speechs (including my own) from the event, click here.
#SchoolChoice #TrustParents