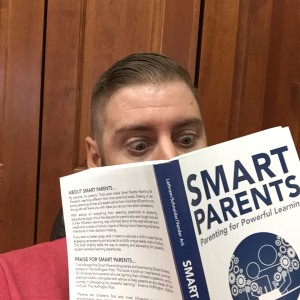 I recently picked up the new book, "Smart Parents: Parenting For Powerful Learning," and it is a must-read for parents and educators. The authors, Bonnie Lathram, Carri Schneider and Tom Vander Ark, are leading bloggers and pioneer thinkers who write at Getting Smart.com.
According to the book, Smart Parents are:
Involved in their children's lives,
Informed about and advocates for their children's learning,
Intentional about creating powerful learning experiences
Inspirational as learning guides and role models.
The authors themselves are parents as well as educators and they understand just how significant parental engagement is in the life of a child.
"We believe parents play the most important role in helping to create conditions in which student-centered learning can thrive—at home, at school and everywhere in between (p. 29).
This belief fuels their philosophy of hands-on parental engagement.
"We believe in the potential of technology to improve student access and extend learning opportunities, but parenting for powerful learning is not about plugging your kids into technology and proudly declaring victory over the shifting realities of the 21st century.

The real point of parenting for powerful learning means that parents play a critical role in helping their children navigate the myriad formal and informal options that are available to them, helping to equip them with the habits and mindsets necessary to drive their own learning (p. 38).
While most parents desire to help their children grow, learn, and succeed, the overabundance of parenting guides can leave parents feeling bewildered. The authors write:
From playground conversations to reports in the national media, both anecdotal and research-based evidence exists that confirms that modern-day parents feel confused and conflicted about everything from screen time to school choice and "opting out" of state tests to "opting in" to traditional college paths. Parents turn to social media, take advice from parent bloggers, ask their friends and neighbors and, in some cases, even hire education consultants to help them weigh school options (p. 35).
But this confusion is unnecessary. The authors point out that we can trust ourselves and fellow parents to do a good job.
Discovering each kid's true nature—his or her strengths, challenges, idiosyncrasies, dreams, fears—that's all we really need to know to be good parents. When parents figure out what works for their own kids, they're empowered in new and meaningful ways (p. 51).
The first half of the book lays the groundwork with chapters on the roles and responsibilities of parents and students in navigating educational opportunities, letting students learn at their own pace, encouraging anywhere, anytime learning, etc.. The second half of the book provides a Smart Parents Toolkit, organized by age group with helpful tips, ideas, and resources on everything from balancing outdoor play / screen time, to creating individualized learning plans, to making sense of higher education.
Here's a great quote from the book that I think really captures the heart of the material:
"Smart Parents appreciate that every young person is unique and that each mixture of expectations and supports is uniquely adjusted for each learner. Smart Parents have a commitment to cultivating unique talents and linking them to a cause students care about. Smart parents help young people discover and explore their passions and purpose" (p. 183).
To buy the book, Â click here. Below are the Twitter profiles for the co-authors of the book. They are worth following.