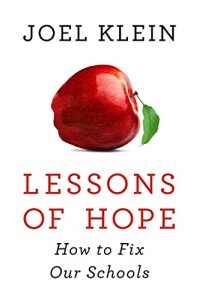 Joel Klein was not a field insider when New York mayor Bloomburg asked him to be Chancellor of the New York City Department of Education. In fact, prior to, he had worked at a high-paying law firm and in the White House under the Clinton administration. Still, Bloomburg could see that Klein was a strategic thinker and moreover, the kind of man who would stick to his guns under pressure and when the criticism was heaviest.
Alongside Bloomburg, Klein ushered in many education reform initiatives. He championed school choice, smaller schools, more accountability, and better standards. It didn't take for him to learn that the status quo is not easily challenged and deeply entrenched forces such as teacher unions don't respond well to change.
In Lessons of Hope: How to Fix Our Schools, Klein shares a firsthand account of his experiences as Chancellor. He introduces us to the main characters: the people he worked alongside, the people that opposed his initiatives, and the members of the public whose words changed his life.
There is an urgency in the book. Klein understands firsthand the importance of these reforms, the great need for school choice. At one point in the book, he shares the formative experience of speaking with an African-American father. The man's daughter was thriving academically, having been admitted to a "good, out-of-district school which accepted students from other communities." His son, however, was not so lucky: "he attended a neighborhood school with a much worse reputation, where he was not being well educated." In reflecting on that experience and the heart that father had to see both his children succeed, Klein writes, "to this day, I tear up when I think about that wonderful man." – pg. 77
Lessons of Hope shines brightest when it focuses in on the power of local communities and the role they play in education reform. Klein writes:
". . .When it came to public education, New Yorkers, like people everywhere, cared most about their neighborhood schools. They didn't identify with the system as a whole, which was comprised of more than a thousand schools. The system was as remote to them as any big bureaucracy, but their children and their neighbors' children were dependent on local teachers, administrators, and staff to keep them safe, teach them what they needed to know, and help them grow into productive citizens. A good local school cast a glow on the surrounding community, becoming a source of pride, social energy, and even economic stability . . ." – pg. 22
As an example of how Klein connects this understanding with specific education reform initiatives, Klein's team developed an online service giving parents relevant information about their kids and schools. This struck a nerve and hundreds of thousands of parents logged on. Klein writes: "It was exciting: people were getting information about kids and using it to help them improve." – pg. 201

Lessons of Hope reminds us that we are always learning and therefore, the way we do education needs to grow along with us. Indeed, Klein goes so far as to say that this understanding of learning is central not just to school but also to life.
"Our guiding notion was that every school should be a community of learners. Under this model, students, principals, teachers, support staff, and parents would all act as lifelong students, continually seeking new knowledge and sharing the excitement of learning. In this kind of school, life itself would be defined as a learning process, with every day bringing the possibility of a new skill or idea." – pg. 192
This one statement summarizes much of Klein's vision for education. A strong community, excellent leaders, and engaged parents – all committed to lifelong learning – these are tenets that provide the foundation for all the important education reform that is taking place and will continue to take place.