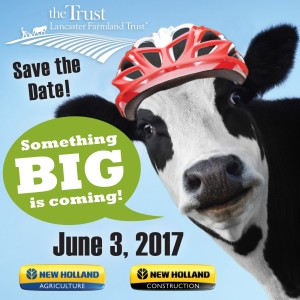 Did you know that Lancaster County is home to 425,336 acres of farmland spread out over 5,462 farms? According to the Lancaster Farmland Trust, "Lancaster County's farmland and the industry it supports provide more than 51,000 jobs and contribute more than $4 billion to our local economy each year."
On June 3, 2017, the Trust will host the Pedal to Preserve, a bike ride to raise money in support of the Trust's conservation work. The event included three marked routes allowing participants to choose between 6, 20, and 51 mile rides through Lancaster County's pastoral countryside.
The Trust was established in 1985 and its mission is to "preserve and steward the beautiful, productive farmland of Lancaster County that reflects our heritage, supports our economy, protects our environment, nourishes our health, and enhances our quality of life." The Trust website explains that:
Land conservation offers many benefits to the community, including attracting jobs, enhancing property values, safeguarding a valuable way of life for future generations, ensuring an adequate, fresh food supply, and protecting the quality of the environment.
To learn more about preserving Lancaster County's farmland, and to sign up for this years, Pedal to Preserve, visit the Trust's website here.