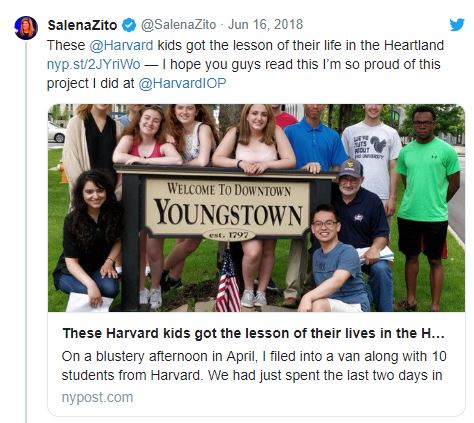 Salena Zito has been a political journalist for almost 15 years. In an article for the New York Post, she explains that when she travels throughout the United States, her rule is "no planes, no interstates, and no hotels." Zito has a fascinating reason for this rule: "Planes fly over and interstates swiftly pass by what's really happening in the suburbs, towns, and exurbs of this nation. Staying in a hotel doesn't give me the same connection I can get staying in a bed and breakfast where the first person I meet is a small-businessperson who runs the place and knows all the neighborhood secrets. The same is true of going to locally owned restaurants versus chains."
Zito's latest project is taking Harvard kids on tours of Middle America, showing them the rural counties and struggling industrial towns that played such a pivotal rule in the 2016 election. Zito describes the demographics of the Harvard class:
"Nearly all of them said they didn't know what life was like outside the coastal cities and states. Only one student, Henna Hundal, 20, had grown up in a rural environment — an almond farm in Turlock, Calif. — while Kessler, a computer science major, was the only member of the class who had ever fired a gun. The students ranged in age from 19 to 21, with an equal number of girls and boys and a wide variety of ethnic backgrounds. The majority of them hailed from cities and suburbs in blue states along the East and West coasts. One was from Wales."
So far, Zito has led three different classes as part of Harvard's Main Street project. Her and her students visiting rural and industrial towns in Massachusetts, New Hampshire, Ohio, and Pennsylvania. Zito explains that "most of the trips were a two- to four-night stay, getting from place to place in a van and sleeping in locally owned B&Bs." Along the way, her students encountered women who find empowerment at the gun range, artisans who make pottery, and third-generation small business owners.
Zito writes that by the end of the class, her students had "taken a walk down Main Street and made a lot more friends than judgments." The key takeaway for these students is a lesson we can all benefit from learning: "in order to understand a country's politics, you first have to understand its people. That means getting out of your bubble and spending time away from people like you."
Further reading:
The Harvard Main Street project is a perfect example of the kind of practices that will help us rebuild our civic society and strengthen our democracy. Of course, not all of us will be able to travel the nation like these students, but Zito has given us the next best thing: her book The Great Revolt introduces us to towns and the citizens who live in those towns as part of a substantive analysis of the "populist coalition reshaping American politics." (Click here to read my review of Zito's book.) Another important aspect of the Main Street project is that implicitly highlights the importance of intergenerational learning as a core dimension of civic engagement: I've written on those topics here and here, and these ideas are the building blocks in my extensive article on Reconnecting Democracy Finally, Zito's book and the Main Street Project remind us that the greatest tool for democracy is meaningful and charitable dialogue with each other.