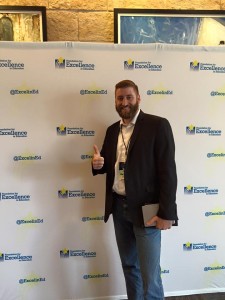 I had a wonderful time attending the 2015 National Summit on Education Reform in Denver Colorado. The theme for the event was Onward and Upward: Operation Student Success. Here are some tweets from the event:
"Every life is worthy and therefore every life is capable of greatness" Dr. @condoleezzarice #EIE15

— Ethan Demme (@EthanDemme) October 22, 2015
In time for Halloween @matthewladner is scaring the room with data about future age dependency ratios #EIE15 pic.twitter.com/FaCcuZE8Ny — Ethan Demme (@EthanDemme) October 22, 2015
It's time for ed unions to #trustparents and be partners in choice for kids. #EIE15

— Julie Parrish (@hotcouponmama) October 22, 2015
Until you have parents in control, you're not going to have efficiencies in education: @richardcorcoran at #EIE15 — Ron Matus (@RonMatus1) October 22, 2015
First in line for a signed copy of #SmartParents from @Getting_Smart @tvanderark @CarriSchneider #EIE15 pic.twitter.com/puQo9RX0mH

— Ethan Demme (@EthanDemme) October 22, 2015
"True self discovery begins where your comfort zone ends." @AdamBraun #EIE15 — ExcelinEd (@ExcelinEd) October 23, 2015
Pennsylvania was well represented at the event with members from the house and senate and we had several great conversations about the future of education reform in Pennsylvania. I'm looking forward to what our ed reform leaders in PA will be able to do over the next few years.
I tagged on an extra day and had the opportunity to climb Mt. Elbert, the highest peak in Colorado. Overall it was a great conference with some excellent speakers with some great ideas that can be implemented in Pennsylvania.