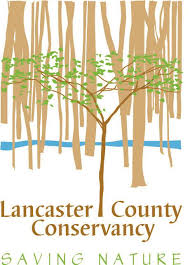 Founded in 1969, the Lancaster County Conservancy is devoted to saving and stewarding the ecosystems and landscapes upon which we depend for food, clean water and air, economic and public health, and the restoration of soul and spirit. The Conservancy has four main programs:
Land Protection Program: Focuses on our county's natural resources "gems' such as forest communities or streams and wetlands with the goal of protecting our most vital natural resources.
The Conservancy has protected over 5,474 acres of natural lands in Lancaster (York and Chester) County with 38 preserves that are open to the general public 365 days per year.
Stewardship Program: Manages Conservancy properties so that healthy habitats exist for people and wildlife.  Activities include: development of management plans, employed stewardship crews, trash clean-up and invasive plant control.
Education Program: Engages local school districts, students and adults in outdoor classrooms and the utilization of Conservancy properties.
Urban Greening Program: LIVE Green strives to build strong and healthy communities through environmental projects.  LIVE Green focuses a  majority of its efforts in the City of Lancaster through its Urban Watershed Initiative.
On the website, Lancaster Conservancy lists these ideas for family activities for exploring nature:
Look for insects, leaves, clouds, stars
Read a favorite nature story
Listen to night-time sounds outside
Watch a bird fly high in the sky
Touch a wiggly worm
Observe leaves falling in the fall
Use your nose to smell an interesting flower
Click here to see a map and listing of the Conservancy's preserves sorted by school district. For more information about the educational opportunities the Conservancy offers (including field trips), click here.