One of the talks I give to both adults and teens is entitled "Show Up Politics: Getting Involved in your local Political Process". Many individuals feel that they are powerless when it comes to influencing politics. People wonder, "does my vote actually matter" and "can I actually change anything?" In this talk, addressed to teens and adults, I share that yes, you do matter!  The reality is that individuals have the power, the opportunity, and the responsibility to help shape their local communities. Read below to see a description of the talk and check out my civic engagement blog series over at the Demme Learning Blog.
Talk description
Growing up, my parents would take me and my brothers along with them when they voted. I remember the old-fashioned lever voting machines in the booths. Seeing my parents engaged in the political process played a very significant role in my life. Now, all these years later, I have put those acquired values to work, serving my local community in many roles, most recently as a township supervisor.

In this talk, I draw from my experiences to provide inspiration and practical tips for civic engagement. You and your whole family can make a difference in your local community; learn why local politics matters and why showing up is the most important step.
A Highlight From Tocqueville: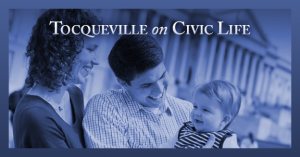 "Municipal institutions constitute the strength of free nations. Town meetings are to liberty what primary schools are to science; they bring it within the people's reach, they teach men how to use and how to enjoy it. A nation may establish a free government, but without municipal institutions it cannot have the spirit of liberty." – Alexis de Tocqueville, Democracy in America (Chapter V)
For More Information:
If you are interested in inviting me to speak on this or any of my other topics just email speaking@ethandemme.com